Central's History
Central Insurance's long history can be traced back to 1876 and a small insurance company called the Van Wert County Mutual Fire Insurance Company.
Located in Van Wert, Ohio, this small company, which was to eventually become Central Insurance, was formally incorporated on April 17, 1876, with the signing of the charter by the Ohio Secretary of State.
The company's management decided it would operate through independent agents rather than company salesmen selling on a direct basis. The first agency, Purmort Brothers Insurance Agency, was appointed in 1876. This hometown agency has represented Central ever since.

Central's operation soon stretched far beyond Van Wert, first to a statewide organization, then interstate beginning in 1883. The company's name was far too limiting, so in 1884 the Van Wert County Mutual Fire Insurance Company became The Central Manufacturers' Mutual Insurance Company.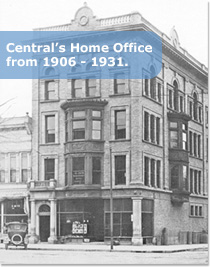 Through the 1890's and into the 20th century the momentum of growth continued. By the time of Central's 25th anniversary in 1901, Central Manufacturers' Mutual was operating in six states and had over a half million dollars in total assets.
By 1926, the company had surpassed assets of $3 million. The years of the mid-to-late 20's were successful for Central, mirroring the prosperity of the country, but by mid-November 1929, the country was in the beginning of ten years of depression. Remarkably, the management of Central Manufacturers' not only kept the company from losing ground in those years but, in contrast, actually showed steady growth.
In 1940, Boston was added as a branch office. By our 75th anniversary in 1951, Central assets had multiplied more than eight-fold since 1926, from $3 million to $25 million. The modern day Central was becoming more clearly defined, and the name Central Mutual Insurance Company was to finally appear. The company continued to expand its facilities and services. Dallas became a branch office in 1951, and Atlanta was given branch office status in 1956.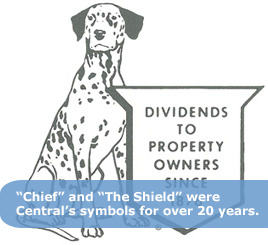 In answer to the competitive pressures created by companies deviating from manual rates, a companion stock company, All America Insurance Company, was incorporated in April 1961. Central's final regional office in Van Wert was established as an autonomous operation servicing agents throughout the midwest states.
Today, Central is comprised of Central Mutual Insurance Company and All America Insurance Company, whose combined assets total over $1 Billion.